Wizard first appears in series 1 selling fake antidote as he comes across Lex who destroys his stall. But Wizard was a member of the Technos in series 4 and 5. In series 5 he and Stats, a fellow Technos member, kidnap Salene in order to try and get Ram back.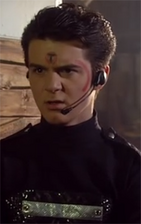 May followed Stats to try and talk to him and Wizard. She tells them that she thinks that they should kill Salene because if they let her go, Salene would have them hunted down and killed. Pride, who was on his was to try and rescue Salene overhears this and confronts the three of them. Pride attacked Stats, throwing him into some boxes before going after Wizard, who zaps and kills him in front of May, Wizard escapes.
Wizard then confronts Salene and tries to get her to come with him so he could kill her, tying up the loose ends. Salene had attached the circuits from the light in the room to the door knob so that when Wizard touched the door knob, he would be electrocuted to death. Salene then escaped.
Ad blocker interference detected!
Wikia is a free-to-use site that makes money from advertising. We have a modified experience for viewers using ad blockers

Wikia is not accessible if you've made further modifications. Remove the custom ad blocker rule(s) and the page will load as expected.