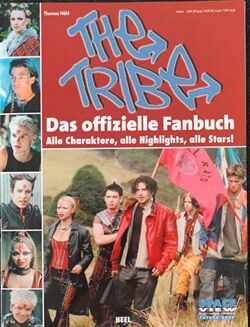 In 2000, members who signed up for The Tribe fan club received a free magazine, dubbed 'The Tribe Trader', only one issue was made, after which other issues were created/distributed online.

In 2003 Germany released two magazines for The Tribe. Each of them came with a free gift and featured facts, interviews, games, exclusive pictures and competitions relating to The Tribe and it's cast members.
pictures from the german magazine

In 2005, Germany released The Tribe Das offizielle Fanbuch. This magazine with 60some pages, contained lots of information about The Tribe in general and the characters. There is a detailed description of all the main characters and the cast. There's also character descriptions about the minor characters.
Ad blocker interference detected!
Wikia is a free-to-use site that makes money from advertising. We have a modified experience for viewers using ad blockers

Wikia is not accessible if you've made further modifications. Remove the custom ad blocker rule(s) and the page will load as expected.