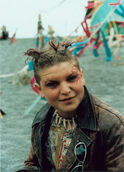 The first time we see Glen, is when he, Lex, Ryan and Zandra were waiting for the Locos. They want to join the tribe, but they soon discover that Zoot is not going to let them in so they run. Lex "sacrifices" Glen so that he, Ryan and Zandra can get away, we see that Zandra got emotional about that. Glen is captured by the Locos and after a beating he is one of the Locos.
At the Tribal Gathering Glen meets up with Lex again, and he wants revenge.
Glen is attacked by the second wave of the virus, Jack sees him outside the Mall from one of the cameras thinking he is an adult. Patsy, naively, slips away from the Mall to bring him back there with her so he could "look after" them.
Everyone regarded him with shock until Lex and Zandra realise it is Glen, and not an adult as was presumed originally.
There was an argument over what to do with him at first, but in the end, Glen stayed. Zandra cared for him in her own way. She told Glen she would leave Lex for him when he recovered although she had regrets for doing that, and with some deliberation she went back to Glen to tell him that it wasn't true, but when she got to his bedside, she realised he had died.
Then the Mallrats burn his body outside the Mall.
Ad blocker interference detected!
Wikia is a free-to-use site that makes money from advertising. We have a modified experience for viewers using ad blockers

Wikia is not accessible if you've made further modifications. Remove the custom ad blocker rule(s) and the page will load as expected.